Location Map - Baulkham Hills (Balcombe Heights Estate)
Lessons are held at the Thompson Hall Activity Room, Balcombe Heights Estate in Baulkham Hills.
The full address is
Thompson Hall
Balcombe Heights Estate, Building 12,
92 Seven Hills Road
Baulkham Hills
In Baulkham Hills lessons are also held at Crestwood Reserve.
Directions
Entry to Balcombe Heights Estate is at 92 Seven Hills Road (opposite Jasper Road Public School). Turn off Seven Hills Road at the corner of Jasper Road and Seven Hills Road using the traffic lights. Note a right hand turn is not permitted at the traffic lights. Follow the red line and arrows on the map below to building 12, named Thompson Hall and park in the two available parking areas. Toilets are located inside Thompson Hall.
Maps
Two maps are provided, one static map to help you locate Thompson Hall and parking, and a second dynamic google map.
Static Map - Balcombe Heights Estate
​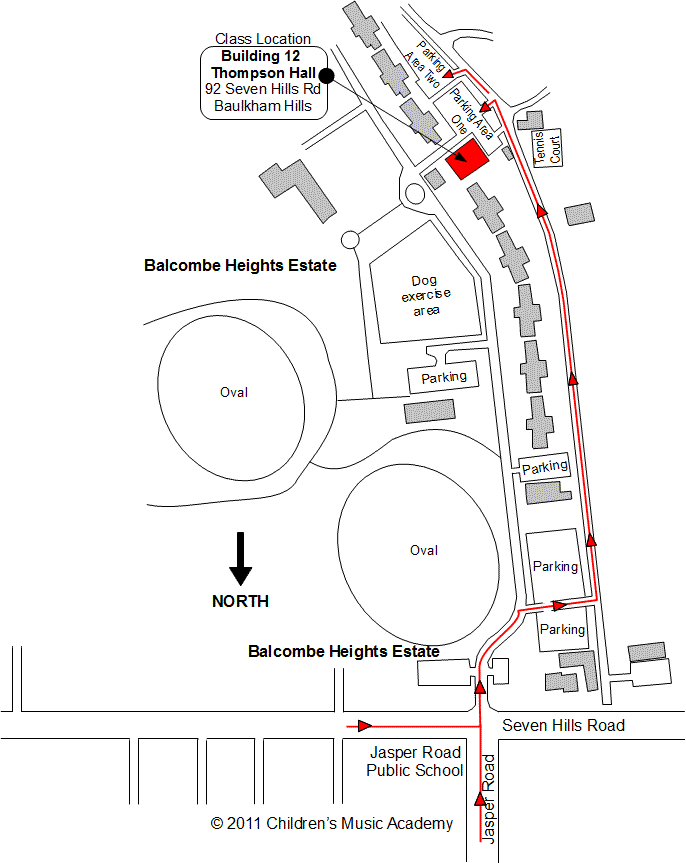 Google Map - Balcombe Heights Estate
Use the static map above to locate the Thompson Hall Building on the Balcome Heights Estate.
​